"He was going to be a great player, Loughery thought, not just because of the talent and the uncommon physical assets but because he loved the game. That love could not be coached or faked, and it was something he always had. He was joyous about practices, joyous about games, as if he could not wait for either. Not many players had that kind of love. Jordan's love of what he did was real, and it was a huge advantage."
     David Halberstam – Playing For Keeps
"You can learn to love something if you make an effort to focus on the aspects of that activity that please you, thinking over and over again about how much you enjoy them."
     Bob Rotella – How Champions Think
In basketball, like in all of sports,  there is one quality that seems to separate the exceptional players from the rest of the pack. It is their love for the game. Those who love the game play the game with a greater sense of purpose, the right perspective, passion and perseverance. It's what fuels their desire to play, their devotion to keep learning and growing, and their drive to overcome any obstacle or challenge in their way.
You can tell when you're in the presence of a player who loves what he's doing. You can see in his face. You can hear in his voice. You can watch it as he moves up and down the court. Whether the player is in high school or the pros, this is the kind of player who is playing and living the game on a whole different level.
For some time now, I have been corresponding by email with a young man who lives in Ghana, Africa. From sharing videos of himself doing basketball drills to talking about his dreams of playing in the NBA someday, I could tell from the beginning that he couldn't get enough of the game. And, I'm not sure if I know of anyone, with as little support and resources as he has, who loves the game of basketball as much as he does.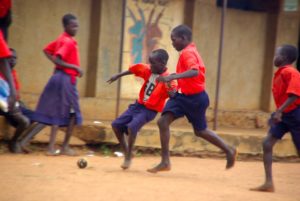 William Jefferson Thompson started playing basketball at the age of 10. And while there have not been as many opportunities to play organized games and tournaments in Ghana as there are in Europe or the US, William has taken any and all opportunities to play; whether it was with others or simply by himself. He just can't seem to get enough.
Jefferson told me that one of his favorite experiences was meeting Toronto Raptors player Sergio Ibaka when he visited Ghana for a basketball camp. "Ibaka taught me how to shoot off the dribble, rebound and post up your opponent", stated Jefferson. He also talked about what he loves about the game. "I love the fundamentals; like the layups, shooting, passing the ball to a teammate, blocking a shot and jumping for a loose ball."
Jefferson also told me that he loves watching college and NBA basketball as often as he can. "I follow UCLA point guard Lonzo Ball because he is a great transition player and it's like having a coach on the court. And Stephen Curry is my role model because he believes in God and is an unselfish player", stated Jefferson.
And, the more you listen to Jefferson, you realize that this young man appreciates the game of basketball for more than just how he dribbles and shoots a ball. He often talks about how the game has built his confidence, developed his self-esteem and taught him how to concentrate and stay focused.
And, Jefferson has learned how to use different things to inspire and motivate himself on and off the court; whether its music or holding onto his dream to play in the NBA someday.
In August, Jefferson will be traveling to China to become an undergraduate student at the College of Information Engineering at Huzhou University. He was offered a full scholarship by a doctor from Ghana who is living in China. Jefferson decided that he couldn't pass up such a great opportunity. But his first love is basketball and he will definitely be looking for any chance to play the game, fine tune his skills and keep talking to people like myself about getting that one door to open for him to play professional basketball.
I am going to ask a favor of everyone out there in the basketball community. If you have a free moment, send a short email to Jefferson. Tell him to keep playing the game, pursuing his dream and never give up. And if Lonzo or Stephen can "hear" me, say hello to this young man. The both of you are part of Jefferson's journey.